Fresh off the holiday season, many marketing managers would be happy to tell you how they exemplified best practices with their holiday greeting cards.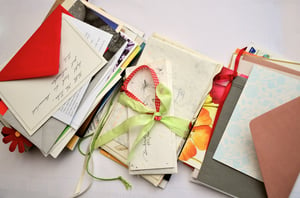 They sent Christian-themed cards to their Christian clients, Hanukkah cards to their Jewish clients and neutral, ecumenical cards – the kind with mittens and snowflakes – to clients whose religious affiliation is unknown. And, if they made the most of this outreach opportunity, they scribbled a note on each card.
But just as surely as the office decorations get packed away, so too, inexplicably, do best practices with regard to client communication, and especially email messages. Instead of segmenting their email lists and personalizing the messages, too many marketing managers fall back to the "worst practice" of email blasting, or sending the same message to a diverse group of people.
Just as 52 percent of marketers tell industry leader Hubspot that they have a "great need" to improve their email database segmentation, you can resolve to do better in 2018 with your B2B email marketing initiatives. Buoy your resolve with some compelling reasons and statistics.
Extend the holiday card analogy
If you can keep the analogy with holiday cards top-of-mind, you should be able to see the benefits of segmenting an email list:
Your clients share similarities, but they also stand out for their differences
You probably are known for offering one type of product or service. And, like many marketing managers, you probably have developed an "ideal buyer persona" that helps ground your marketing strategies. This persona identifies similarities among your clients, as it should. But when you segment an email list, you "drill down" much further. For example, your ideal customer may be someone who has frequent printing needs. But you can segment this potentially vast group of people if you take the time to distinguish between the product (or products) they need printed, such as brochures, postcards, flyers or annual reports. The truth is, you can segment your email list down to virtually any common denominator. And the more specific your list, the more effective your B2B email marketing message can be.
Clients, like buyers, are in different stages
Since your clients may have different needs, it follows that they also may be at different points along the arc of their relationship with your company. Some may be second-generation clients – loyal and dependable. Some may have just passed the one-year mark – loyal until now but a long way from being true believers. And some may be simply "trying you out," waiting for either a false move to bolt or an unexpected overture to stay put. Segmenting your list accordingly – and your message to these clients – allows you to capitalize on the inherent possibilities of effective B2B email marketing.
Your clients spread the word about you to others
They may not do it every day or even every week, but clients talk to others about your company, and they communicate in various forums and to people who could be one click away from becoming a new client of yours. Moreover, your inbound marketing strategy may be designed in such a way that you encourage this type of sharing, especially on social media. Clients want to feel as though their wants and needs are being met. They want to feel as though a company understands and responds to them. And, today more than ever before, they want to feel a bond (or at least a connection) with the companies they do business with. While segmenting an email list is no guarantee that you will satisfy all these wants, it should bring you infinitely closer than your email-blasting competitors. If you know your clients are talking about you, give them something positive to say.
A B2B email marketing best practice
You wouldn't be a savvy marketer if you didn't look for proof that segmenting an email list – and tailoring the content – is worth your time and effort. In this way, a report from MailChimp, an email service provider, may engender a few double-takes. It found that segmented email campaigns produce:
14.31 percent more opens than non-segmented efforts

10.64 percent more "unique opens" than non-segmented efforts
100 percent more clicks than non-segmented efforts
4.65 percent fewer bounces than non-segmented efforts
Hubspot also reports that 75 percent of companies say that email offers an "excellent" to "good" return on the investment – undoubtedly much higher than those thoughtful but less purposeful holiday cards. Segmenting your email lists is a best practice you can capitalize on all year long.