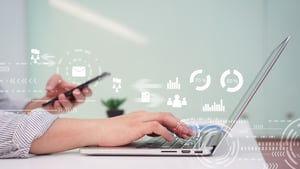 Automated marketing systems can seem like they're out of reach when you're just getting started with them. Many businesses are reluctant to even ask about them, embarrassed at being so far behind the times. The reality is, about 49% of businesses still aren't using marketing automation even though 80% of marketing automation users see increased leads, and 77% see increased conversions.
Social Media Marketing Automation
Every marketer knows that social media is essential when it comes to building brand awareness and communicating with fans and followers. Even with its importance, it sometimes it falls by the wayside when it comes to staying on top of a steady flow of timely messages. Here are some easy ways to keep all your social media tasks organized and consistent.
Schedule content ahead of time to publish at regular intervals- tools like HootSuite, Sprout Social, and Loomly can help you organize your social content in advance. You can decide what to post and when to post it, and the scheduling tool handles the rest. This saves you from having to log into social media every day and draft and publish a post.
Social listening - social listening is the monitoring of any mentions of your brand or your chosen keywords on social media. You can use social listening to keep tabs on what people have to say about you, your competitors, or your industry in general. Check out Buffer or BuzzSumo to give social listening a try. When you're ready to grow, HubSpot can cover this one and everything else mentioned here in its marketing pro version.

Chatbots

- chatbots can be your first line of communication with new customers, especially on social media. They can be used to answer frequently asked questions or provide basic information, and the best part is that they answer immediately. More than half of customers say that they would rather buy from a business that they can communicate with via message meaning they're perceived well in addition to the added efficiency. Check out the free option from HubSpot for adding a chatbot to your website.
Your Website
Your search engine rankings for your website can have a huge impact on your business as a whole, but understanding how the algorithms being used can seem cryptic. Search engine optimization (SEO) can be introduced into your strategy by using plugins like Yoast for WordPress that can analyze content on your website to guide you into making it as search engine friendly as possible.
You can also incorporate a wide variety of tactics you're already using to gather information about your website users, and then use marketing automation tools to segment them based on the data. For example, you can use a lead scoring tool to rank your visitors - someone who visited every page on your site and spent five minutes on every page might be ranked as a hot lead (i.e. someone who may be ready to make a purchase), while someone who visited your site, checked out a page or two and then left might be classified as cold (i.e. someone who may have a passing interest in your brand). From there, you should be able to target users with more relevant advertising.
Email
Many email software brands like MailChimp and Constant Contact have the option to send autoresponders to your email list. When someone fills out a form or takes an action on your website, you can have it trigger an email from your email management software. You can thank them for signing up for your email list, and then follow up with other emails over the coming weeks, all without having to press the send button.
And you can also offer personalized email advertisements, discounts or coupons for people who have opted in to hear from you and showed interest in certain products. Use tools to track what your users are interested in and make it into a customized and personalized experience for each customer.
Staying on top of your marketing strategy doesn't have to be hard. There are a lot of tools you can use to make your marketing efforts more streamlined and effective, and as technology advances, you'll be able to do more and more with these tools.