Social media started out as a way to connect with other, like-minded people, and businesses soon realized the potential it had to reach audiences in an organic fashion with their messages.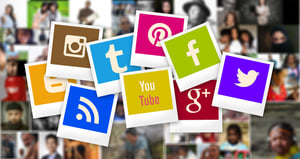 Since then, the networks have discovered how to monetize it and put pressure on brands to purchase paid advertising. Even though things have changed, organic still has advantages over paid social media, and the top 5 of these are:

Establishing a community of loyal followers and customers.

Communicating true brand values and culture, or learn about the values of their audience.
Achieving a cost-effective, long-term marketing solution.
Building influencer relationships.
Showcasing creative content.
To enjoy the benefits offered by organic social media marketing, however, you have to actually do it, and spending hours every day posting updates, running contests and encouraging user engagement seems too overwhelming for many businesses to consider.
If you've been putting off wading into social media posting for your business, you may change your mind with a little exploration of the latest social media posting platforms that are available these days. We've gathered six of the best of them here to help you choose one.
One of the best-known names in social media management, HootSuite is great for small to medium-sized businesses who need to post daily or more. It allows you to pull all your social media profiles into one comprehensive dashboard where you can see at a glance what's happening.
HootSuite is free for a basic plan and $9.99 a month for a Pro plan that lets you add up to 50 social profiles. In addition to the four main social media sites (Facebook, Google, Twitter and LinkedIn), the platform also supports postings to Wordpress, Pinterest, Instagram and YouTube.
Best for: Building influencer relationships.
This site used to be called Offerpop, and it's an engagement marketing platform focused on generating engagement. Wyng integrates user-generated content across marketing channels while making it easy for you to source, moderate and secure the rights to and deliver the content. Pricing starts at $99 a month for the DIY option.
Best for: Establishing a community of loyal followers and customers.
Similar to Wyng, Woobox is a social engagement platform that emphasizes interactive content. It's ideal for running social giveaways and successful contests, especially on Instagram, and removes much of the legwork involved. Pricing starts at $32 a month for an annual subscription, or you can get a pay-as-you-go option for $37.
Best for: Showcasing creative content.
As with HootSuite, Buffer allows you to manage all your social media profiles from one location. It doesn't offer quite the same number of features, but it's a cleaner and easier-to-use interface. Buffer focuses more on the message scheduling aspects instead of the overall general management.
Price-wise, it's more expensive than HootSuite and you'll pay $199 a month for 50 profiles, but if you're a small business looking to manage just 5 or 6 profiles you can do so for $15 a month.
Best for: Achieving a cost-effective, long-term marketing solution that's decidedly simple to operate.
This app is great if you only post to Twitter, which many businesses do. You can connect any number of Twitter accounts, although you can no longer post simultaneously to all of them at once. You can post from the same window one by one, however, which is fairly convenient.
TweetDeck has applications for iOS, OS X and Windows, which means it doesn't matter where you are, you can use a streamlined method for your tweets. The program is free, so there are no pricing plans involved.
Best for: Free cross-posting of similar content across a number of Twitter profiles.
This site uses algorithms to analyze user behavior and optimize your social media posts based on the data available. By doing so, it's able to predict the ideal times for publishing content to generate the best response.
The site also offers a full range of services aimed at increasing audience engagement. Pricing isn't published online and is subject to individual demonstrations and a quote.
Best for: Learning about the needs, wants and values of your audience.
These are just six of the tools available, ranging from a free tool to an individually-priced one. The lesson here is that whatever your marketing strategy encompasses in terms of social media, there's likely a tool out there to help you achieve it.
And with all the options available, there's no excuse for you to not take full advantage of organic social media to drive traffic to your website, increase your visibility in your market and generate engagement with users.