Creating strong relationships with your audience both online and off is critical to a successful inbound marketing strategy.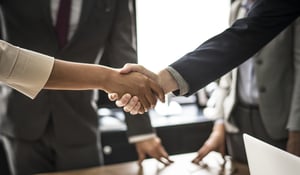 While it's true we're living—and working—in a digital world, it's still worth your company's time and energy to cultivate offline relationships. In fact, real world, personal connections are a proven way to increase your online networks and success. The key is learning how to leverage technology to support and boost your sales team's effectiveness.
Offline Sales Lessons Every Marketer Can Learn From
The best salespeople instinctively know how it's done. Cold calls? They've learned how to do them right, using the technique every day to drive revenue. They're known for having never met a stranger. And their inherent skills help them build trust-based relationships with decision makers, resulting in more closed deals and repeat business. So, where does technology fit in?
Let's start by talking about techniques that have become common in the digital inbound marketing realm, specifically buyer personas and content. Conventional wisdom says that by developing buyer personas and creating relevant content you can deliver what your customers want. But what if you're creating terrific, useful content that's not performing as it "should?" Could it be due to the fact you're marketing to hypothetical personas that are based on what either you or your sales team think you know about your customers?
Now consider what drives digital marketing. Customer engagement, personalization and targeting, content marketing, testing and analytics, cross-selling, and responsive experiences are some of the most powerful conversion techniques commonly used. Skilled salespeople have been using these methods on real people for decades. You can do the same by gathering information from surveys and in-person meetings and then using online digital tools and analytics to better understand and market to your prospects' wants, needs, and pain points.
To create buyer personas and then wait for online sales to pour in is simply not enough. If you want to drive solid prospects to your website, you must continually collect information from each on and offline interaction you have with them. Only then can you create accurate, realistic personas that let you tailor personalized offerings that truly resonate. The right technology can act as an "assistant" to your sales team, focusing on enhancing what they do, not changing who they are and/or how they work.
A New Marketing Age of Personalization
Mass appeal has worked for online marketing for a long time. But as tastes and outlooks changed, resistance to cookie-cutter approaches grew. That's forcing companies of all sizes to focus on personalizing their brand to develop more intimate relationships with their customers. Yet, one study found that only 12% of marketers are highly satisfied with the level of personalization in their marketing efforts, with many saying a big problem is the lack of sufficient data and insights for effective personalization.
Recognizing that there are many potential leads in the offline world, businesses as diverse as IKEA, the World Wildlife Fund, the San Jose Blood Bank, and more are integrating traditional offline strategies like direct mail as well as innovative approaches to email marketing into their inbound marketing campaigns.
Here's just one such "out-of-the-box" approach your brand could use to leverage offline relationships within your digital marketing efforts.
If you're like most SMBs, you or members of your sales team likely attend a number of offline networking functions like chamber luncheons, seminars, and trade shows where you exchange business cards and hopefully collect email addresses from prospects you want to target. And you probably follow up by email once the event is over. Instead of the standard nice to meet you message, use this opportunity to pass along a few relevant blog posts with a note along the lines of "our conversation today made me think you'd be interested in these articles."
Not only do you now have a potential lead in your database, HubSpot is able to track what happens once you press send on the email. Did the recipient open it? Did they click the links? HubSpot's CRM side can also tell you how much time the person spent looking at the material and whether they just skimmed it or gave it a deeper read. With that information in hand, you or your sales person can now prioritize a list of recent attempts based on engagement with this follow-up activity.
This strategy could work just as well with one-on-one sales calls and meetings and you could also provide leads with other digital marketing collateral like videos and webinars.
Alignment is the Key to Success
It's easy to think of online operations and offline activities as distinct processes. But people like to know that they can freely switch between the digital and physical worlds as they move through the buyer's journey.
The digital drive will continue, but it's important to remember you're still dealing with and selling to people. People care deeply about making a connection with brands and seeking out enjoyable and valuable experiences. Marketers who understand this will be well served by making sure their offline and online strategies complement each other so that their marketing campaigns are aligned.