Clyde has a perspective of how B2B email marketing works and many business owners can likely relate to it. Will it serve him well for his long term objectives? We'll compare his ideas for how to use it with his marketing director's point of view. You'll see what happens as the story unfolds, and we'll let you decide which outcome you think he'll choose.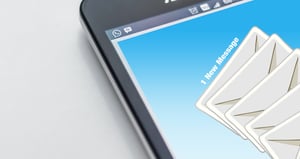 Until recently, our fictional entrepreneur and business owner Clyde has been successful in spite of using slightly outdated marketing tactics - but his inability to take advantage of recent advances in marketing strategy is beginning to catch up with him. Realizing he's falling behind on things, he recently hired a well-respected marketing director to help out - but he can't seem to take both hands off the proverbial steering wheel.
Can you relate to him? Let's use his perspective as an example of how everyday entrepreneurs might use email to market their businesses and learn how to update the approach.
Clyde realizes he's behind the times
Clyde started noticing how other businesses around him, especially his competitors, were using blogs, social media and improved websites as part of their marketing. He hired a new marketing director, Marci. She was referred to him by one of Clyde's business acquaintances who'd sung praises about the wonders Marci had done for generating new clients that are regular, loyal customers. This advice came when Clyde shared how he felt he was being left in the dust as newspapers seemed to be going away and the Internet was gaining ground.
After bringing her on board, Clyde and Marci had a meeting. After she explained the present moment and big picture aspects of scalable marketing, they worked together to generate a plan with an actionable timeline. Now, Marci's a busy little bee, taking all the steps required to leverage Clyde's data and analytics to form a customized marketing strategy - addressing both his short- and long-term goals. Clyde quickly agrees that Marci's plan is a great fit. They each return to their offices and go about their routines.
Clyde's mind is on a track born of his experience that's now being molded to what he's seen of the Internet's capability. His perception, Marci has the long-term picture in hand and in between, she can help him out with lots of other ideas he's been wanting act on. He's super excited about an event taking place next week. He wants to promote it ASAP, and although he isn't all that familiar about the best way to do this, he figures shooting a quick email to his list of contacts is the fastest way to get the job done. He's done things like this many times and believes it will work better now that he has Marci on hand to take it to the next level.
Then, he thinks to contact his event co-host (a trusted vendor) and request his contact list as well. Clyde's contacts know and trust him, and they're always happy to learn about events like this one. His vendor's contacts are of the same vein, so it feels like a healthy marketing overlap. He marvels he hasn't thought of doing it this way before now.
Since Clyde just hired Marci, his vendor and he decide Clyde should be the one to get the email out.
Clyde immediately fires off an email to Marci, attaching the list of contacts, letting her know what he decided, and asking her to "get on it," since he figures it's a pretty simple task when all is said and done; just an hour or two - or an afternoon at the most - to round up all the pertinent details, right? He pats himself on the back for a job well-done. He's really glad he hired Marci, it's great to have someone who can make things happen!
The uninformed perspective
In an effort to please Clyde, Marci set everything up as per Clyde's request. The email went out the very next morning and, as a result, several people opened it and immediately signed up for the event.
Clyde is thrilled! People actually signed up for his event from a simple email blast! After a quick and enthusiastic call to his vendor to share the good news, he schedules a meeting to discuss the exciting results with Marci.
What would Clyde do next since from his perspective, his idea was a great success?
Now it's your turn. You get to work alongside Clyde. Clyde has two options. He wants Marci to repeat the entire process with several other vendors. Marci has another option to present to him. Download the guide to see the details of both options and see how your perspective compares to Clyde's.