Marketing-driven sales enablement strategies based on relevant, accurate data are key to maintaining and increasing the revenue of your business; small or large. In Huntsville, Alabama, August 22nd, 2019, we took a close look HubSpot Sales Enablement and you can get the slide deck.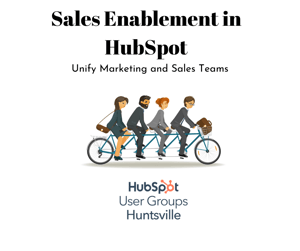 Now, if you're in North Alabama, you can learn all about Sales Enablement and many other modern marketing tactics. All you have to do is attend a Huntsville Hubspot User Group (HUG) quarterly meetup. HUGs are designed specifically for those who are interested in learning how to implement the latest digital marketing strategies with HubSpot's suite of software (and there are FREE versions we can help you set up for those who are just getting started). These techniques apply not only to marketing, but to sales and customer service as well. HubSpot makes it their mission to do these things in more efficient, manageable ways. These tools focus on several key areas:
Marketing
Sales
Customer Service
The second of these three is the primary focus of this writing, and it's best accomplished through sales and marketing teams working together to co-opt information and practices into unified output. Sales enablement is a renewed discipline that has become much more achievable due to tech innovations. It's helping businesses harness the digital "wild west", if you will. At the August Huntsville HUG, we covered what it is and how you can put it to work for your business. Three key areas were explored to help you get a better idea how best to enable sales:
Content
Processes
Technology
Register for the Huntsville HUG or sign up for email announcements
A Closer Look at the Marketing Role in Sales Enablement
Inbound content you produce must be qualitative, representative, and have the ability to resonate with target markets. Processes involved in content design, distribution, and maximization must additionally be pursued to achieve greatest Return On Investment (ROI). Simply put, it must help your sales team close more deals.
Technology assists you in managing content in terms of blogs, white papers, and even emails. Customer Relationship Management (CRM) software enters the picture here, to take content and efficiently use it to assist in generating sales.
HubSpot sales enablement techniques help determine which technology and processes to apply to content for the best results wherever you happen to be in terms of business. But these things, though easy to summarize, don't happen in a vacuum.
You've got to put dedicated effort into techniques, and it can take more than just an hour or two here and there. Dedication is necessary. Marketing will use a set of skills to attract the most qualified audience and your sales team will use what they can uncover to more efficiently use their skillset to close sales. How do all of the tactics available in the modern marketing arena feed a good sales enablement strategy anyway? Consider a few of the following aspects of marketing:
Analytical Implementation
One of the most important HubSpot sales enablement tools involves analytics. Owing to cloud computing and the Internet of Things, it's more possible now than ever to get relevant information on the most minute aspects of how others interact with your marketing content. You can get data pertaining to direct engagement with it, click-through rates, bounce rates, but with the right strategy in place you can go far beyond the simple metrics. Working in unison with the sales team with established common goals will drive a more sophisticated approach to the data you can collect and use to support revenue generation.
Reporting Standardization
If you're going to get the data you need on a regular basis, it will require some level of standardization. Getting the sales and marketing teams together paves the way for this to allow you to streamline operations. Taking it further, layering in the customer service team and other departments can allow for even more value. With this many team members involved, you'll need to get everyone speaking the same language.
Several common standardization reports include how salespeople log activities, delivery of product demos, a catalog of deals either won or lost, and information pertaining to lead generation. Which tactics generated leads, which didn't? Reports should show increases and decreases over time, allowing you to push techniques that work, and either eliminate or de-emphasize those that don't. Importantly, the key performance indicators to be used need to be discussed and agreed upon by all members of this new approach of a merged team.
Lead Qualification And Review
You'll need a process of lead qualification and review. Sales enablement helps you properly parse through data. Some businesses have qualification thresholds which differ from other, similar operations. Be prepared to customize your lead qualification process. The good news is there are tools designed to accommodate it.
Part of qualifying leads will depend on what profit limitations are. If it costs you $1k in marketing to produce $1,200 worth of value over the course of a month, you're probably working too hard for the $200 profit. The Huntsville HUG covered tactics to determine the best way of qualifying leads under a sales enablement program that can radically improve ROI of marketing efforts.
Most SMBs can't afford to spend $1k for only $200 in profit. Yet, many businesses struggle to have a clear view of what they're gaining from marketing investment, unable to see whether there is a poor ROI. The formula isn't the same for every business. Sales enablement helps you find yours, and use it to qualify leads. You can more accurately track how each sale evolves from marketing effort, and streamline your efforts. Lastly, review lead qualification techniques as your business grows and your clientele transition. You will likely want to adjust which leads are best to pursue.
Overall Sales Content Optimization
Even the best SEO techniques won't help you if you don't do the fine tuning needed to fit your business. What value does a lead have if the sales team isn't trained to pick up the ball where marketing leaves off?
HubSpot sales enablement techniques help you shape your marketing content not only for the standards of digital marketing but also to feed the specific needs of the sales team. Without engaging sales in the content creation process, marketing has a more difficult time generating leads that can close. Sales teams experience frustration when it seems marketing is crafting content that really doesn't improve the sales process. In fact, it can make the sales process more difficult. There are analytical data sets that can help hone digital marketing efforts to absolute perfection, and we cover these on a regular basis at the Huntsville HUG.
Automation Technology In Email
HubSpot sales enablement encourages email outreach using CRM software which can also be used to "grade" leads and better manage communication with existing clientele. Certain clients are more or less likely to buy products or services from you. The client life cycle will have some level of statistically predictive potential you can co-opt into CRM automation for best results. This is not the same as the email marketing automation that takes place before a lead is handed off to sales. You will need to understand the difference and take steps to streamline how your sales team incorporates this technique in order to track effectiveness.
Honing Marketing Techniques For Greatest Impact
HubSpot sales enablement techniques involve helping you achieve balanced automation, optimal content design, proper lead qualification, effective review of lead qualification techniques, standardization of reporting, and effective implementation of analytics. This sounds complicated but with the right tools and a little guidance it is achievable for most businesses willing to invest the time and effort.
Such techniques properly applied will increase ROI of marketing, enabling more sales conversions for the salespeople on your team. It won't happen overnight, but there is science behind sales and marketing. Doing so takes time, and you'll need guidance. That's what HUGs are for!